Here's a couple of good reads sent by one of our fellow adjuncts.  These are the kind of articles we need to share so that the public, our students, and our politicians understand what is going on at public universities.
Posted November 22, 2016
http://www.post-gazette.com/opinion/Op-Ed/2016/11/20/Higher-Education-in-Pennsylvania-101.html
http://www.post-gazette.com/opinion/Op-Ed/2015/08/09/Universities-that-rely-on-adjunct-professors-pursue-profit-over-academic-integrity.html
Is "Adjunct" a Bad Word?
Career Tools  |  by Marta Segal Block
Thursday, September 8, 2016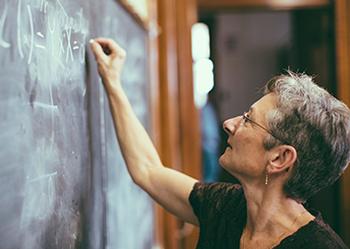 At the 2014 MLA conference, several attendees wore red letter A's pinned to their chests. The attendees weren't signifying their role as Hawthorne scholars; rather, they were trying to call attention to the plight of adjuncts in academia. That year, the one MLA session on the needs and concerns of what the organization termed "contingent faculty" was held at the unpopular time of 8 a.m. on Saturday morning. It may be that those wearing "the scarlet letter" had a point.
Although much has been written about the ethics and economics of using adjunct faculty, not a lot of research has been done on the terminology used to describe this role – and how those who teach part-time feel about it.
The use of adjuncts, or part-time faculty, has grown substantially over the past 30 years. According to the American Association of University Professors (AAUP), in 1975, 30.2 percent of those teaching at the college or university level taught part time. By 2005, that number had risen to 48 percent. According to Hans-Joerg Tiede of the AAUP, the explosion of non-tenure track and part-time positions poses a serious threat to both academic freedom and the institution of tenure.
Despite the popular perception that most adjunct faculty would prefer to be full-time faculty, the same AAUP report showed that only 35 percent of those teaching part-time were actually looking for full-time academic employment. Sixty-five percent of adjuncts either held other full-time employment or wanted only part-time work.
As one might expect, part of how people feel about the term "adjunct" has to do both with their reasons for teaching part-time and their specific situations. Jennifer*, who until recently taught part-time in the business school at a Chicago university, works full-time in the business sector. Jennifer prefers "adjunct" to the term that her institution uses, "instructor." She says "instructor" makes it sound "like the guy you hire to teach driver's ed." For Jennifer, adjunct indicates that she works "adjacent to" the faculty, but not as part of the faculty, which for her is appropriate.
Like Jennifer, Susan holds both a full-time non-academic job and a part-time position as an adjunct professor of entrepreneurship at a private Midwestern university. Susan dislikes the term "adjunct" for the same reason that Jennifer likes it: it identifies her as supplementary to the regular faculty. Ironically, Susan would prefer the term "instructor," as she feels this more correctly identifies her as a teacher recruited from outside of academia.
Jane teaches at a private religious institution. Her full-time non-tenure track position at the school was recently reduced to part time. Jane, like Jennifer, views the term "adjunct" as an insult, "It feels like a slap in the face. Our department is fantastic, but from the administrative or HR side, we are second-tier and bottom-level faculty members. Students do not know we are part-time and treat us equal to their other professors. But the word adjunct in and of itself insinuates that we are not fully a part of the faculty regardless of what we bring to the table." Jane would prefer to be referred to as "part-time faculty," since she feels that terminology more accurately describes her job.
Rose agrees. Rose taught full-time at a technical college for 11 years until her position was eliminated. She then taught part-time at several schools until she landed a full-time position in a K-12 school. She still adjuncts for colleges in the summer but is disturbed by the lack of respect she feels. "I am not offended by the word [adjunct], but I hate being treated as completely disposable."
Leslie, a retired vice chancellor and professor at a branch campus of a large institution, prefers to use the traditional term, "professor emerita," for her part-time teaching. She believes similar terms of respect (full degree and title) should be used for anyone teaching part-time, and that there's simply no need to distinguish between "adjunct" and other faculty.
A former adjunct, John, once taught 23 classes at several institutions over the course of one year. Today he is a dean at a small community college. The college has approximately 400 part-time faculty, not all of whom are teaching in any given semester, and approximately 55 full-time faculty members.
At John's college, all faculty members have union representation and the legal term used to refer to those who teach part time is "part-time faculty." However, in practice, staff and administrators use the terms "adjunct" and "part-time" interchangeably.
Like Leslie, John has mixed feelings about using any term to distinguish between part-time and full-time faculty. At his college, the union contract stipulates that part-time faculty can be part of faculty meetings and several part-time faculty have helped develop curricula. Titles are not given as much weight at John's community college: one might find a full-time instructor with only an Associate's degree, teaching massage therapy, as well as a part-time professor with a Ph.D. in Physics.
John believes that to speak of "the faculty" and their needs does not require a differentiation between part-time and full-time professors. In fact, making that distinction risks assigning greater status to one than the other.
At the same time, John acknowledges that failing to identify "adjunct" faculty as such could elide their concerns and create a false assumption that all is well when it is not.
Many part-time professors have no preference for one term over another, but wish that the terms were more universally applied among institutions and better understood by the public at large. Some full time professors also hold adjunct positions at other institutions and those positions may or may not involve teaching.
Some worry that to the outside world, the word "adjunct" indicates that the person is employed full-time by a university, which may interfere with other professional pursuits. Others worry that the term adjunct implies that they are unable to find a full-time job. Because many people teach part time at multiple institutions, the lack of consistency in terms can be confusing.
The only universal opinion that those who teach part-time seem to hold on the subject is that teaching part-time would be better if the job held more security and respect. As Rose said, "When the treatment and pay don't seem professional, the word 'adjunct" is the least of my concerns."
Useful Articles
http://labornotes.org/search/node/adjuncts  
Example page for a blog and/or informational web presence:
http://laboradvocate.blogspot.com/

25 aides to organizing (though a few deal with organizing within a union, most are great for getting us thinking on how to obtain our main goal–getting a good majority of adjuncts to sign on to unionizing:
http://labornotes.org/secrets#handouts

By the way, KPTFA has two copies of this book. Borrow one and bring to next meeting.
Articles about Part-Time Faculty Issues and Organizing
PHL289: The Philosophy of Adjuncting, Oct. 23, 2015, Instructor: Kevin Temple
https://adjunctcommuterweekly.com/2015/10/23/syllabus-the-philosophy-of-adjuncting-by-kevin-temple/
Study: Most Ontario Adjuncts Are Would-Be Full-Timers, August 18, 2016
Fighting Low Pay, Stressful Uncertainty for Adjunct Faculty, Aug. 9, 2016, by April McCoy
http://www.newsobserver.com/opinion/op-ed/article94659012.html
Someone Calculated How Many Adjunct Professors Are on Public Assistance, and the Number Is Startling, Aug 9, 2016, by Jordan Weissmann
http://www.slate.com/blogs/moneybox/2015/04/13/adjunct_pay_a_quarter_of_part_time_college_faculty_receive_public_assistance.html
Two Modest Proposals to Improve the Wages and Working Conditions of Contingent Academic Labor, Aug. 30, 2016, by Lambert Strether
http://www.nakedcapitalism.com/2016/08/two-modest-proposals-to-improve-the-wages-and-working-conditions-of-contingent-academic-labor.html?utm_source=feedburner&utm_medium=email&utm_campaign=Feed%3A+NakedCapitalism+%28naked+capitalism%29
Saint Precaria at the University of California, SAINT PRECARIA AT THE UNIVERSITY OF CALIFORNIA, Oct. 24, 2015, by Chris Hables Gray
https://adjunctcommuterweekly.com/2015/10/24/saint-precaria-at-the-university-of-california-by-chris-hables-gray/
Adjunct Life: Struggles on the Ivory Tower's Lower Floors, August I, 2016, by Holly J. McDede
http://alumni.berkeley.edu/california-magazine/just-in/2016-08-02/adjunct-life-struggles-ivory-towers-lower-floors
1. Decline and fall of a CC (lessons applenty here for us at CCSF)
http://www.mvariety.com/cnmi/cnmi-news/editorials/85975-bc-s-tales-of-the-pacific-decline-and-fall-of-a-community-college
2. Comment on CCSF in this blog from SD
https://adjunctcrisis.com/2016/05/10/in-unity-a-strong-active-union-equal-pay-for-adjuncts/
—————————————————————
INTERNATIONAL
1.  BC, Canada
Decline and fall of a CC (lessons applenty here for us)
http://www.mvariety.com/cnmi/cnmi-news/editorials/85975-bc-s-tales-of-the-pacific-decline-and-fall-of-a-community-college
2. Risks of Soviet style managerialism in UK univrsities
https://www.timeshighereducation.com/comment/the-risks-of-soviet-style-managerialism-in-united-kingdom-universities
———————————————
UPDATES IN BRIEF AND LINKS
1. Reformers aim to shake up NYC teachers' union (AFT LOCAL 2, UFT)
http://inthesetimes.com/working/entry/19110/uft-more-jia-lee-unity-caucus-election-new-york-city
2. American Sociological Assoc. task force on contingent faculty
http://www.asanet.org/about/taskforces/contingent_faculty.cfm
3. Moving fight for $15 to fight for a union too
http://inthesetimes.com/working/entry/19094/fight-for-15-union-minimum-wage-seiu
4. Why I voted yes for a strike at CUNY
http://inthesetimes.com/working/entry/19097/why_i_voted_yes_to_authorize_my_union_at_cuny_to_call_a_strike
5. U of Buffalo faculty rally for fair pay
http://www.ubspectrum.com/article/2016/05/adjuct-facultt-hold-rally-for-fair-pay
6. CC of Alleghany County approves pact with adjuncts (USW)
http://www.post-gazette.com/news/education/2016/05/05/CCAC-approves-three-year-pact-with-adjunct-faculty/stories/201605050236
7. Beyond the professoriate
https://jfruscione.wordpress.com/2016/05/07/beyond-the-professoriate-5716/#comments
8. US Labor: what's new and what's not
http://portside.org/2016-05-07/us-labor-whats-new-whats-not
8. U of WI tenured assignement fall, contingent ones up
http://www.laramieboomerang.com/news/local_news/uw-tenured-positions-fall-temporary-replacements-rise/article_30d7cc36-14d5-11e6-8bdd-874ea1ffc5ac.html
9. Cerritos Col( CA) Faculty Federation takes to the streets AFT)
http://www.talonmarks.com/news/2016/05/07/faculty-federation-rally-takes-to-the-street/
10. People of the year award to adjunct faculty
http://www.jcunews.com/2016/05/05/the-carroll-news-presents-its-2016-people-of-the-year-award-to-adjunct-teaching-faculty/
11. NTT faculty union (AFT-AAUP) at U of IL, Champaign-Urbana, ratifies first contract after strikes, with significant job security improvements
https://www.insidehighered.com/quicktakes/2016/05/09/u-illinois-non-tenure-track-faculty-union-ratifies-contract?utm_source=Inside+Higher+Ed&utm_campaign=e98fdb5c5a-DNU20160509&utm_medium=email&utm_term=0_1fcbc04421-e98fdb5c5a-197454541
12. Academics who are treated as less than janitors
http://gawker.com/the-academics-who-are-treated-as-less-than-janitors-1775518734
13. Latest issue of Inequality.org
http://www.inequality.org/thisweek.html
14. What we look for in a new part-time hire (people need to comment on this, by two deans)
https://chroniclevitae.com/news/1388-what-we-look-for-in-a-new-part-time-hire?cid=VTEVPMSED1
15. Testy contract talks at Barnard (NY)
http://www.capitalnewyork.com/article/city-hall/2016/05/8598684/talks-grow-testy-between-barnard-contingent-faculty-union
16. The high cost of low teacher salaries
http://mobile.nytimes.com/2011/05/01/opinion/01eggers.html?ref=opinion&_r=0&referer=http%3A%2F%2Fm.facebook.com
17. SEIU and AFSCME to consolidate efforts
http://www.fightbacknews.org/2016/5/9/afscme-and-seiu-consolidate-efforts-face-anti-labor-attacks?utm_source=Fight%20Back%21%20News%20Service&utm_campaign=a072a82019-UA-743468-8&utm_medium=email&utm_term=0_acdbc87f5c-a072a82019-263619777
18. Needed a strong active union and equal pay for adjuncts
https://adjunctcrisis.com/2016/05/10/in-unity-a-strong-active-union-equal-pay-for-adjuncts/
19. Call for papers for April NCSCBHEP conference
http://www.hunter.cuny.edu/ncscbhep
20. A contingent crossword puzzle from our colleagues at Front Range CC in CO (AAUP)
https://academeblog.org/2016/05/08/put-out-the-word-across-and-down/
21. Adjuncts essential to education at Washburn U, MO
http://www.washburnreview.org/news/adjuncts-vital-to-washburn-education-faculty/article_9ffc300a-157c-11e6-a40a-8399a2e85b83.html
22. Uber recognizes new drivers' group (is this a company union?)
http://www.portside.org/2016-05-10/uber-recognizes-new-york-drivers'-group-short-union-0
23. Columbia U concedes better benefits to grads in the midst of union effort
https://www.insidehighered.com/quicktakes/2016/05/11/columbia-u-announces-new-graduate-student-benefits?utm_source=Inside+Higher+Ed&utm_campaign=bc70753926-DNU20160511&utm_medium=email&utm_term=0_1fcbc04421-bc70753926-197454541
24. NY teachers challenged evaluation system invented by present Sec. of Ed King, and won in court that it is arbitrary and capricious
http://portside.org/2016-05-11/teacher-challenges-low-evaluation-court-and-wins
25. Uber, adjuncts and exploitation…
https://academeblog.org/2016/05/12/uber-adjuncts-and-exploitation-the-same-old-thing-lets-fight/
26. Atlantic LIVE education summit, May 18, featuring our colleague Marisa Allison
http://www.theatlantic.com/live/events/education-summit-2016/2016/
27. CUNY faculty vote 92% to authorize strike
https://academeblog.org/2016/05/12/cuny-faculty-union-votes-to-authorize-strike/
and http://www.nytimes.com/2016/05/13/nyregion/cuny-union-votes-to-allow-strike-if-contract-deal-is-not-reached.html?_r=1
28. NLRB rejects union bid by Maywood U FTTT faculty (Yeshiva issue)
https://www.insidehighered.com/quicktakes/2016/05/13/nlrb-rejects-full-time-faculty-union-bid-marywood-u?utm_source=Inside+Higher+Ed&utm_campaign=06ff9ec265-DNU20160513&utm_medium=email&utm_term=0_1fcbc04421-06ff9ec265-197454541
29. U of MO grads sue for union recognition
https://www.insidehighered.com/quicktakes/2016/05/13/mizzou-grad-student-workers-sue-union-recognition?utm_source=Inside+Higher+Ed&utm_campaign=06ff9ec265-DNU20160513&utm_medium=email&utm_term=0_1fcbc04421-06ff9ec265-197454541
30. United Association for Labor Education's 4 regional women's summer schools (strongly recommended! Many contingent faculty activists have gone in the past and learned a lot and had fun!)
http://www.uale.org/womens-schools/upcomingcurrent-classes?link_id=0&can_id=4dc4314371ed7db9acb626870aad7588&source=email-cluw-offers-scholarships-for-womens-summer-schools&email_referrer=cluw-offers-scholarships-for-womens-summer-schools&email_subject=cluw-offers-scholarships-for-womens-summer-schools
31. Why do adjuncts get short end of stick?
http://www.journal-topics.com/opinion/article_cf2ed484-193e-11e6-8bdf-57cfe4a23c64.html
32. New book by our colleague and South Florida Adjunct Assoc. founder Kim Laffont, "Pearl"
It is historic fiction set in 1650-1714 London. I took the premise that Pearl, Hester Prynne's daughter from the Scarlet Letter, went back to England and was raised there during this time. I did a lot of research and it was quite an interesting historic time for England. From Amazon. (The source of Sacrlet A for adjunct, of course)
33. New poem by a Holy Names College (CA) student about us
Adjunct Professors (working title)
I have been taught to try
I won't stand by
While my learning is on the line
As teachers contracts get declined
And the increased wage of the presidunt
Mirrors the loss of wages for the adjunct
Naw, they taught me well in school
The maxim of the ever present profit rule
That turns the teacher into a tool
And the student into a board getting' nailed
I see the links between why we fail
And why every class is up for sale
Cuz the teacher gets kicked out to the curb
After every grueling term
And there's just nowhere to turn,
Cuz they contract every course.
Naw, my teachers taught me well,
That when 8 out of 10
Got no contracts to defend
There's a message we gotta send:
That when Teachers get
Hired and fired
The students get tired
Tired of the teachers getting hired and fired
I'm fed up
So let's stand up
For the adjunct!
–James Cogley, April 2016
34. Call for papers, The precariat and the professor
https://theprecariatandtheprofessor.wordpress.com/2016/05/10/first-blog-post/
35. Colleges increasingly replacing FT professors with adjuncts
http://wfae.org/post/colleges-increasingly-replacing-full-time-faculty-adjuncts
36. New Labor Forum recent blog
http://murphyinstituteblog.org/2016/05/16/new-labor-forum-highlights-may-16th-2016/
37. SEIU seeks organizer in higher ed in CN
http://murphyinstituteblog.org/2016/05/16/seiu-seeks-organizer-in-training-oit-higher-education-hartford-ct/
38. Contingent faculty retirement crisis
https://chroniclevitae.com/news/1401-the-contingent-faculty-retirement-crisis?cid=VTEVPMSED1
39. Song lyrics, sung to the tune of Paladin, Have Gun Will Travel, 1960's TV Western 
                                       Have Course Will Travel
Original tune find here: https://www.youtube.com/watch?v=tgvxu8QY01s
Refrain: Part-timer, Part-timer, where do you roam
Part-timer, Part-timer, far, far from home.
"Have course will travel" sighs an adjunct with no plan
A worker without health care in a savage land
Degrees for hire, he heeds the highway's call
A teacher of ill fortune in a part-timer scam
Refrain: Part-timer, Part-timer, where do you roam
Part-timer, Part-timer, you'll never own a home.
He'll travel U to U, wher'er go he must
Lunch on his lap, in a vehicle of rust
Hears memories of yore, old tenured track do sing
When even young professors, the bacon home did bring
Refrain: Part-Timer, Part-Timer where do you roam
Our classic schools crumbling, another fallen Rome
Oh listen, oh listen, to my plaintive moan
My mem'ries, my stories, fill a hefty tome
–Michael Carano, Aug 31, 2016